Eleven reasons to love Mean Girls
Mean Girls turns 11 this week; we look at the many reasons to love it
'Grool … I meant to say cool and then I started to say great.'
Few movies are as grool as Mean Girls. And fewer still have the lasting impact the sassy, smart, Tina Fey-penned flick has enjoyed. Eleven years after its release, we're still wearing pink on Wednesdays and counting the ways we love Mean Girls.
1. It introduced the world to Tina Fey
Producer Lorne Michaels already knew how majestic Tina Fey was, having worked with her on Saturday Night Live, but Mean Girls brought her to our wider attention. Two years after the film's release, 30 Rock – and goddess Liz Lemon – showed up to make the world a better place.
2. It was one of Lindsay Lohan's last good films
The noughties were a different time: we wore baggy flares and baker boy caps, Justin and Britney still had hope, and Lindsay Lohan was known as the peppy redhead from Parent Trap and Freaky Friday. Mean Girls and Confessions of a Teenage Drama Queen (also 2004) mark the turning point in a career that looked so promising, but which floundered faster than you can say 'Herbie: Fully Loaded'.
3. It made 'fetch' happen
Kinda. The fact that the film is secondary school-aged and we're still laughing at how 'fetch' hasn't happened means that, in a roundabout way, 'fetch' did happen. Karen always was a wise one.
4. It brings real issues to the fore
Body issues, bullying, slut shaming, social cliques: Mean Girls doesn't shy from getting real and deals with important, all-too-common problems teens deal with daily in a funny and empathetic way.
5. We now know when to wear pink
(Hint: it's Wednesdays)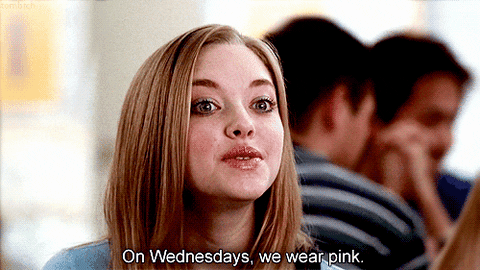 6. It's an intelligent teen film
For comparison, other films released in 2004 include The Girl Next Door (teen dates future porn star), The Notebook (sickly sweet Sparks), 50 First Dates (commitment-phobe dates ill woman) and A Cinderella Story (fairytale in the internet age). Branching away from the formulaic, Mean Girls focuses on very real relationships, the complications of teen girl dynamics, and it teaches women not to dumb themselves down for men (go, Mathletes).
7. It's so damn quotable
'You go Glen Coco!'
'Oh my God, Karen. You can't just ask someone why they're white.'
'Get in losers. We're going shopping.'
'She doesn't even go here.'
'Boo, you whore.'
'One time she punched me in the face. It was awesome.'
'That's why her hair is so big. It's full of secrets.'
'And none for Gretchen Weiners.'
Truly a quote for every occasion.
8. The soundtrack is almost entirely composed of female artists
Women represent all over the official soundtrack: from Peaches ('Operate') to P!nk ('God is a DJ'), as well as The Donnas covering Generation X's 'Dancing with Myself' and Boomkat covering Blondie's 'Rip Her to Shreds'. The film also features 'At Seventeen' by the original Janis Ian, after whom Lizzy Caplan's character is named.
9. We now have something to do on Oct 3
The moment things really began to hot up between Cady and Aaron Samuels (he asked her the date; she replied) will be forever celebrated through National Mean Girls Day. We always thought October needed more holidays.
10. That cast is bangin'
Lohan, Rachel McAdams, Lizzy Caplan, Amanda Seyfried, Tina Fey, Tim Meadows, Amy Poehler, Neil Flyn and Ana Gasteyer comprise a perfect blend of Fey's Saturday Night Live pals and fresh faced up-and-comers.
11. It spawned an equally-classic sequel
Just kidding. We never speak of Mean Girls 2.